Project EG-R: Rear Brake Conversion
Since I got the car, my plan had always been to eventually swap the engine for a Spoon K20A unit from the recent Civics Type R.
Reading different forums and learning from the famous Japanese TV mag "Hot Version", it was clear to me that I would need to improve the suspension and more importantly the brakes.
I also learned that the easiest way to do so was to replace the rear trailing arms with all the parts that come attached to it. Conceited as I was, I thought it would be best to buy all the parts new and went on a search for the needed parts with the EG6 (Si). Though they were affordable on the North American continent, over here in Europe that wasn't really the case. Unfortunately, most of the US and Canadian part dealers do not ship to the "old continent".
Being constantly short of money -thanks to my project car- I resorted to look for used part.
Finding the needed parts
I started looking for the used rear trailing arms that I needed. I went through quite a few local "junk yards" searching for them but got nada. Apparently, the model of EG Civic that was most sold in Germany was the 1.3 DX/LS that I also have, so a lot of Drums around and rarely any Disks.
To give you an overview, I basically needed all of this:
Since I couldn't find anything reasonable on my own, I turned to the CTzens of the then Honda Owners Community. After a few hours I got a couple of good answers that directed me to my saviors: Honda Parts Europe
The team at "Honpa" got back to me very quickly, only a few hours after I mailed them. They told me that they had the parts that I needed but from an EG5. Happy and relieved that I finally found what I needed, I ordered the trailing arms with the wheels bearings / hub as well as the brake calipers.
I received the parts not even a week after I ordered which was a surprising since they were shipped from Hungary, destination Germany.
As I expected from the photos they sent me, I had to replace the rusted out splash guards and buy new bolts to screw them on. Actually, they were so bad I had to use a torch to get them off the trailing arms.
Then I ordered a set of rear trailing arm bushings from Spoon, as the original ones were porous and cracked. The way they were, they would definitely not do their job anymore. I also ordered Brembo front and rear brake disks and pads, aswell as new wheel bearings from Oscaro (french car parts supplier). Unfortunately, these parts could not be sent to Germany so I had to send it to my parents who were planning to visit me a few weeks later.
Restoring the Trailing arms
Before I set out to restore the trailing arms, I asked ChrisFix for advice on how to go about it. He directed me to a video that turned out to be most helpful. I'll share it below.
It took me a few days to do the restoration and to be honest I would have been better off going to a sand blaster but I couldn't afford that. Instead, I sanded down all the old paint and surface rust I could with my newly purchased angle grinder. I couldn't get to a few spots because of the shape of the trailing arms but I thought that I didn't need it to be perfect. I just wanted to make it so that the rust wouldn't be causing problems for the next few years.
Once that was done I set myself to primer, paint and clearcoat the rear trailing arms.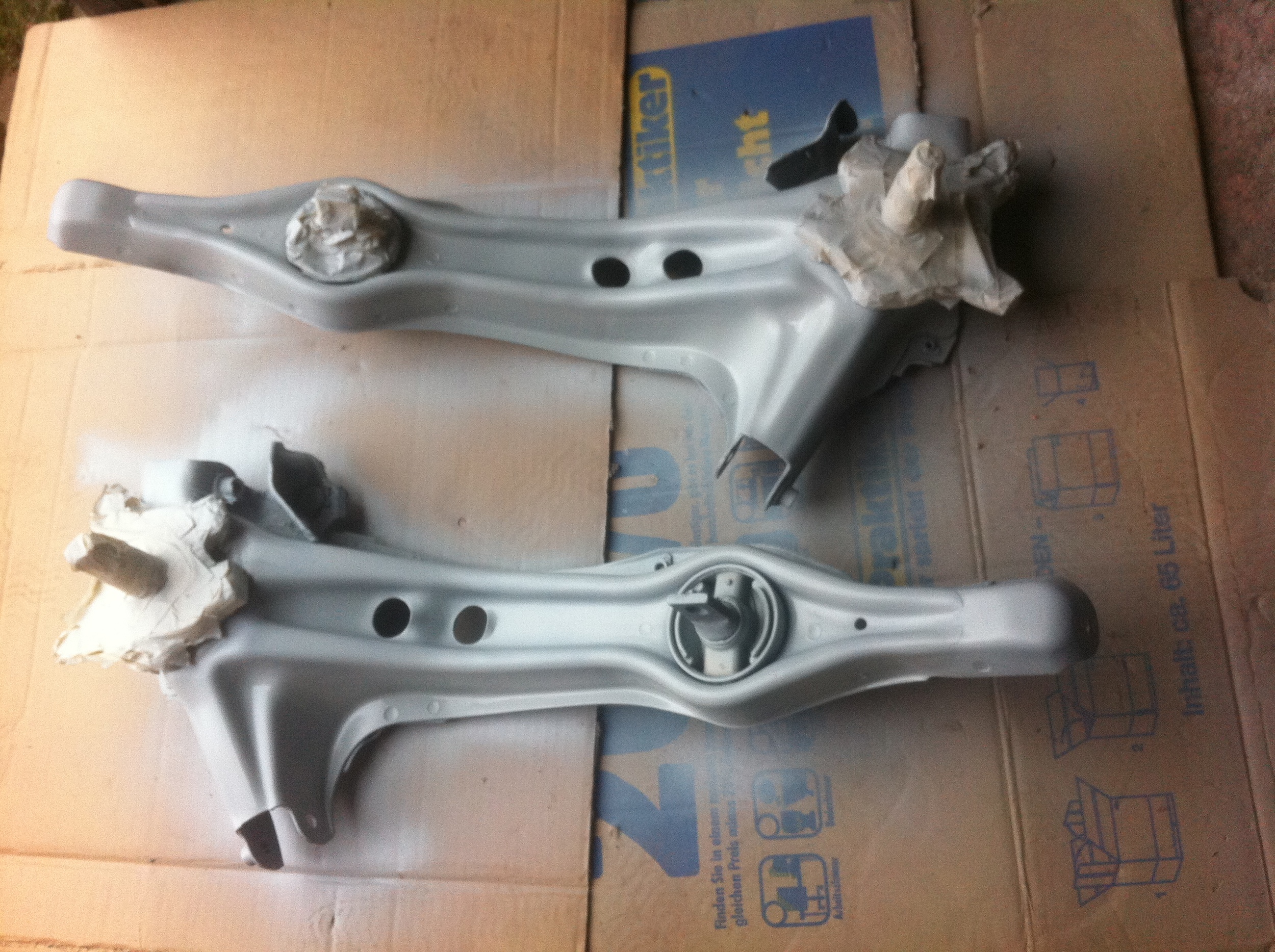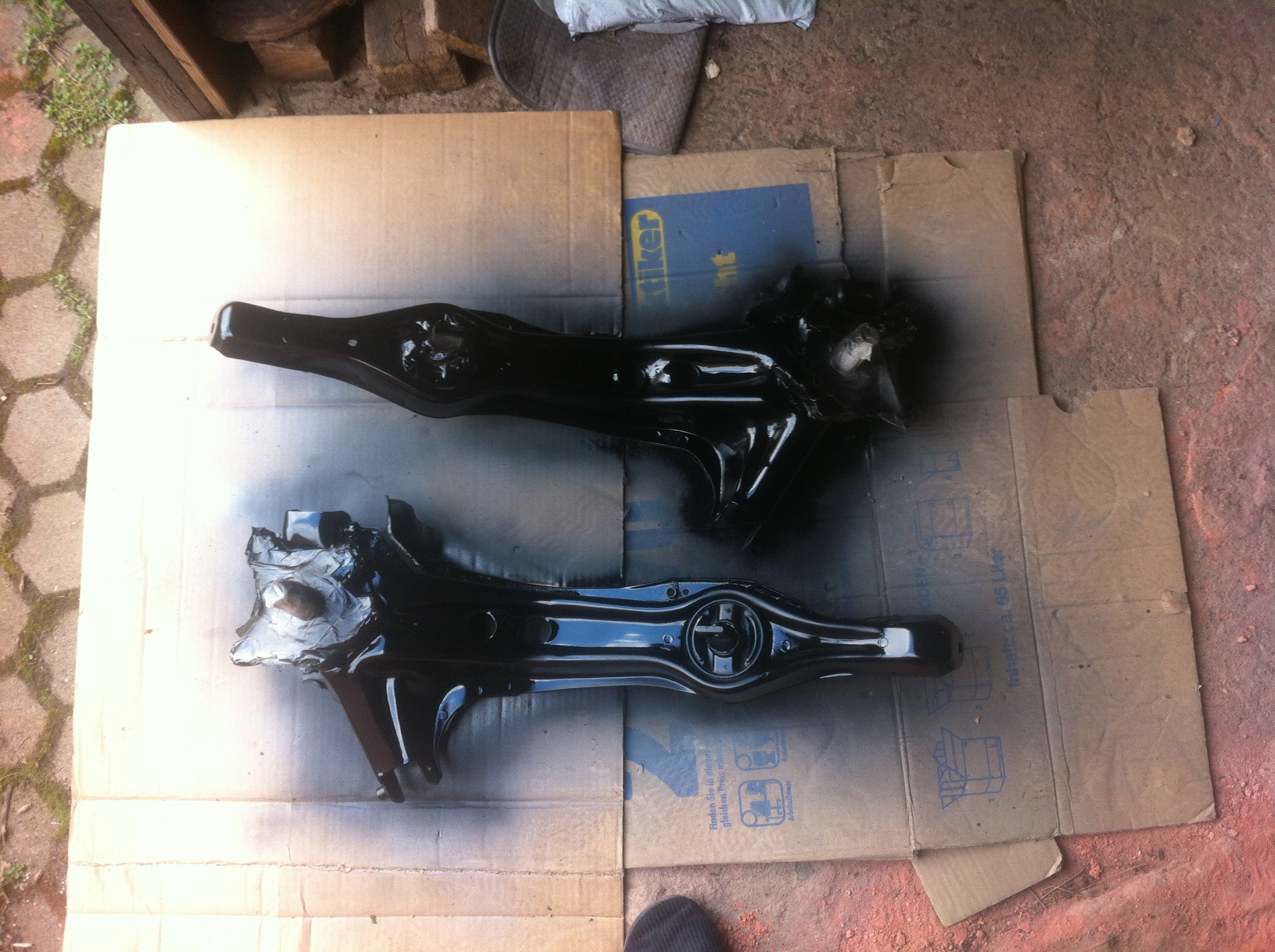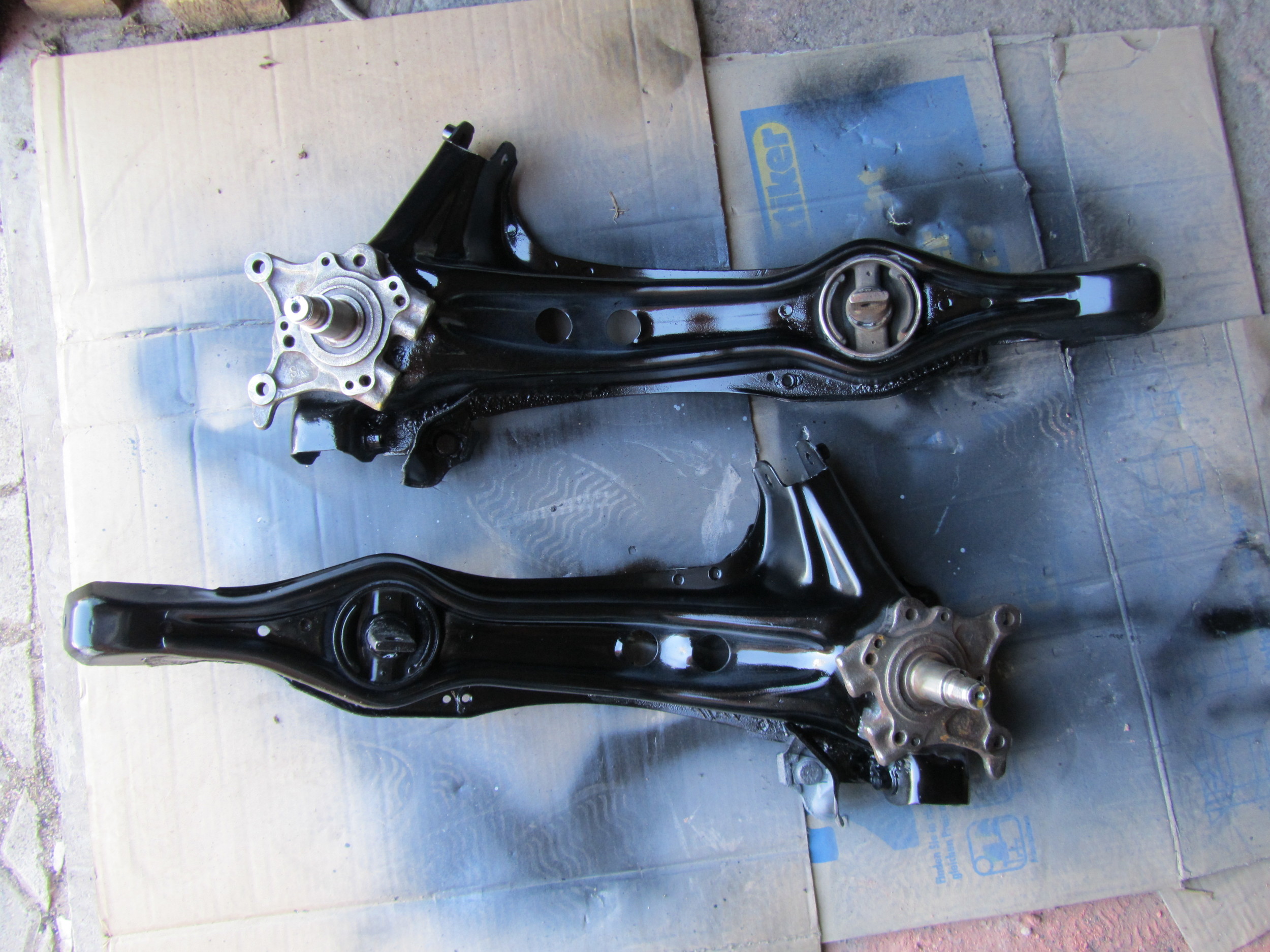 Here is the video that ChrisFix recommended to me for the restoration process.
A bad surprise
Shortly after I finished restoring the trailing arms, I got the package from the parts dealer Oscaro, that my father brought with him from France. The first look at the parcel was already raising a lot of questions. It was in a bad shape and I opened it to see if the parts it contained were alright. It was the worst parcel opening I have ever had. The packaging of the parts inside looked just like the parcel that delivered them so I got very worried.
I set myself to check the parts and surely enough, some of the parts weren't right.
I had ordered Delphi Wheel Bearings/Hubs. The packaging although damaged was legit but unfortunately, not the parts inside. One was a new part in a still vacuumed plastic bag with a serial number that made it an NSK part and the other was inside a plastic bag with no serial number and covered in surface rust. What the hell ???
The Brembo brake pads packaging was also damaged though the products inside were new and legit.
The only untouched packaging was that of the Brembo brake disks.
Now stressed out, I knew I couldn't use the bearings that were sent to me because who is to say that these were the correct ones ? I was seriously pissed off when Oscaro said you had 3 days to complain after they sent the parcel (most arrive a week after). Luckily, I have a full year to send the parts back so that's what's going to happen.
As a result, they have completely lost my trust and I'll never order from them again.
So to remedy the situation, I had to go to the local parts store here in Trier and that is Hans Hess. Unfortunately for me the only parts they could order for the next day -yes, my "date" with the workshop was at 8am the next day- had ABS rings which my car doesn't have so I had to use those that I got with the trailing arms. Though not new, I was told they were still in working order and they are.
Since then, I've driven a fair bit. The first thing I noticed was the squeaking that originated from the drums has disappeared but more importantly, the braking feel has improved by miles.
In the next post, I'll get to the design side of my project. Though it isn't an absolute necessary step, I want to have something that motivates me, but more importantly guides me towards my goal of building a perfect daily that suit all my needs and ideals.